The Complete Guide to Drying Flowers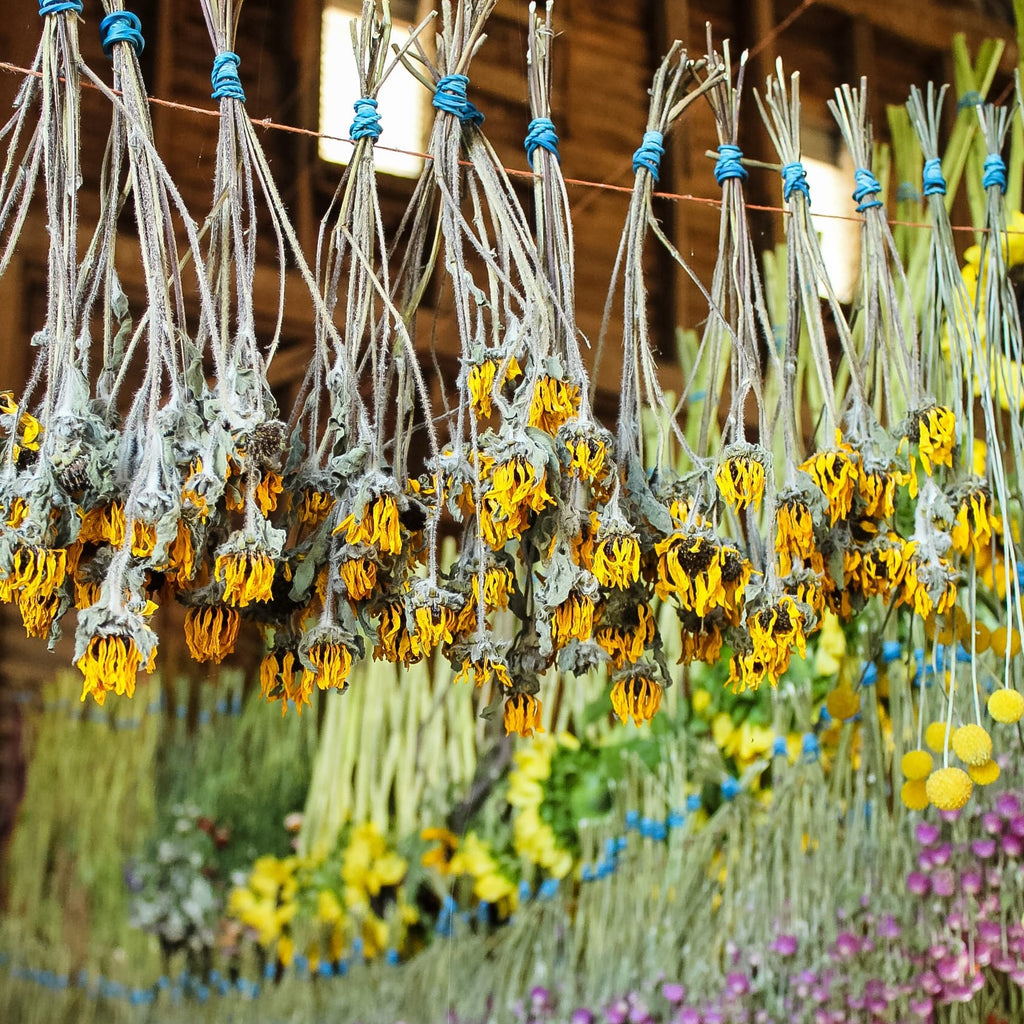 The Complete Guide to Drying Flowers
$75.00
Have you ever wanted to dry flowers or create beautiful dried flower wreaths, but don't quite know where to begin? We've been asked this question a lot over the past...
Have you ever wanted to dry flowers or create beautiful dried flower wreaths, but don't quite know where to begin? We've been asked this question a lot over the past few years, so we decided to create the Complete Guide to Drying Flowers Course! In this course we'll walk you through the basics of harvesting, drying, and storing everlasting flowers and give you a step-by-step look at how to create dried flower wreaths and bouquets! 
Whether you're a gardener who wants to dry flowers for your personal use or a flower farmer who wants to know the most efficient way to dry and create with flowers, this course has something for everyone! A compilation of written guides and videos, The Complete Guide to Drying Flowers explores topics like:

Flower drying methods
Our top 10 flowers for drying 
Harvesting and processing tips
Setting up a drying area
Storing dried flowers
Creating dried flower recipes
How to make dried flower wreaths 
IMPORTANT: Accessing Your Course
 

Before your checkout, login to your account or create one

 

here.

 

You'll need to be logged in to access the content.
Once you've purchased the course, you'll find a link on the confirmation page that says "Go To My Courses." You can also access your course from the "Courses" page linked under "From the Farmers" in our main menu.

 

You must be logged in to see your course.
There is no time limit on any of the sections, so can you start and stop the course at your leisure.
Below is a snapshot of our shipping policies. Find a complete overview of our shipping policies on our Shipping and Delivery Page or our Shipping FAQ Page.
FLOWER SHIPPING
At Harmony Harvest Farm, we are committed to delivering flowers with ultimate freshness, exactly when you need them. Flowers are harvested within hours of being packaged and are shipped FedEx Priority Overnight, or FedEx 1-Day Ground for specific zip codes to arrive on your selected delivery date. If you're eligible for FedEx 1-Day Ground, you'll see the Ground and Home Delivery service appear at checkout. You can also see if you're eligible for 1-Day Ground shipping using the shipping calculator on the cart page.
To prepare for shipping, each bunch is dressed with an enclosed water source and gently rolled in paper for extra protection. Flower deliveries do not require a signature, and should not be left outside, or unprocessed for extended periods of time. Please be sure to have someone available to receive the flowers or a climate controlled area where your delivery can be left. Once flowers are received, they should be removed from the box, placed in water, and kept in a cool place until it's time to design. Fresh flowers are not available for international shipment. The only wedding flowers available for shipment are bulk flowers. All other wedding flowers are available for on-farm pickup ONLY.
DRIED FLOWER SHIPPING
Dried flowers are shipped within two business days via FedEx Ground. Dried flowers are not shipped on Saturday or Sunday. Dried flowers are not available for international shipment.
FLOWER FROG SHIPPING
The flower frogs are shipped within 3-5 business days of when you place your order. We will notify you immediately if for any reason your product has gone out of stock or is still in production and might be delayed. Flower frogs are shipped via FedEx for both domestic international shipments.
MERCH SHIPPING
Our merch is made-to-order. Due to you-know-what (we're tired of saying it), production times are longer than normal and are averaging 4-5 days, but could be as long as 15 days. We could switch vendors, but then we wouldn't be supporting US print shops and that's not really our style. This lead time is temporary and our printers are working hard to shorten them. After production, items will take 5-7 days to arrive to you within the US. International transit times vary and can be estimated at checkout.
Related Collections
you might also like