The Hybrid Mums Box - 2021 Trial Favorites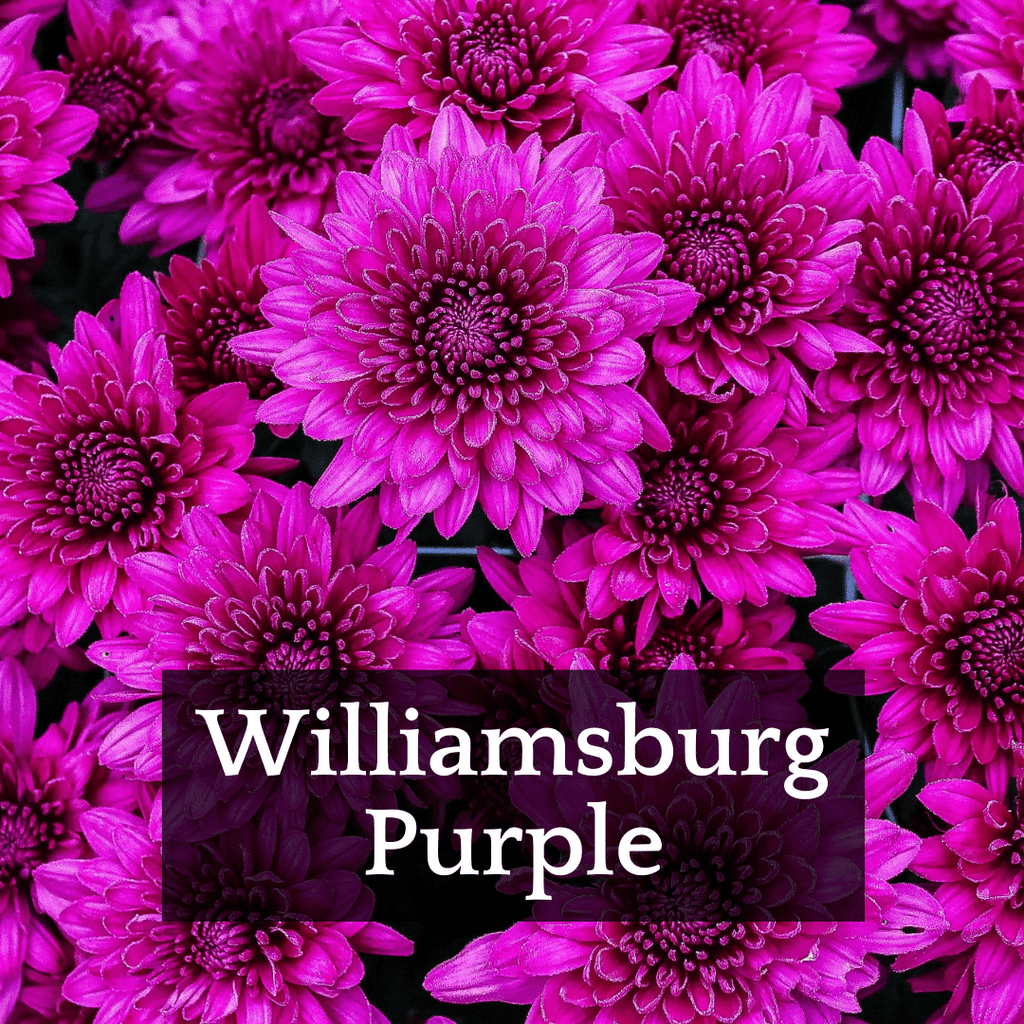 A collection of our top varieties from the 2021 Ball/Syngenta mum trial! As the national trial host farm for these new cut flower mum varieties, we were absolutely thrilled with the results and couldn't resist sharing our favorites in this custom-built box. 
The Mum Plug Box contains our top-performing varieties from our 2021 Ball/Syngenta trials. After a successful trial season, we brought these varieties back for our 2022 crop and were strong producers in our gardens and our cut bouquets! 
These plants are coming directly from our commercial plant supplier and are repackaged so that you get a beautiful mix of varieties without the hefty minimums. This box is perfect for farmers and home gardeners who want to try different hybrid varieties! 
Available Packs:
72-Count Grower's Pack: 12 plants of each variety

18-Count Gardener's Pack: 3 plants of each variety
Included Varieties
Presidio™ Deep Pink

-

This one amazed me! It has a vintage look with time and heavy producer.

Green Valley™

- A late bloomer, and really unique! 

Williamsburg™ Purple

- This one has a strong form and saturated color. Perfect-sized blooms!

Fire Island™ Red Bicolor

- A very large seasonal daisy mum, this one is frilly with oversized spoon petals and fills out space with masses of blooms

Pittsburgh™ Purple 

- My favorite spider variety ever! This one stays in our top three mums year after year

Saskatoon™ White

-

 Full-on fluffy and puffy white masses of blooms.  This is the ideal white chrysanthemum.
All varieties are licensed and cannot be propagated! 
About the Mums
The Ball mums are considered pot mums which are intended to last for one season. That said, we have had success with them as tender perennials and can return with proper winter protection. 
Growing Zones:

 3

 to 9
Bloom Time:

 

September to frost
Where to plant:

 

Full-sun areas
Size:

 2

' to 3' tall and 1' to 2' wide
Growing Courses and Guides
There's a lot to learn about mums! We've put together some amazing resources to help you get growing!
*The Complete Guide To Growing Mums Course must be purchased in the same order with a Mum Plug or Garden Box to receive the discount. 
Important Delivery Information
Plants are speculated to ship around the middle of June. Please note that this date is dependent upon when we get the plugs from our supplier and may change!

All plants are shipped FedEx Overnight or are available for on-farm pickup.

You will receive an email with tracking information once your order has shipped, or a notification when your order is ready for pickup.

Shipping dates cannot be changed nor can orders be held. 

If you may not be home to accept your plants, we strongly recommend making friends with your neighbors now so they can receive the package for you. 

Plants must be unpackaged immediately. 


If there is a problem with your shipment, you must notify us within 48 hours of receiving your plants for accommodations to be made. 

Orders cannot be changed or combined.

Not available for wholesale or international shipping. 
For more information on our mum plants, please visit our Mum FAQ page. 
Below is a snapshot of our shipping policies. Find a complete overview of our shipping policies on our Shipping and Delivery Page or our Shipping FAQ Page.
FLOWER SHIPPING
At Harmony Harvest Farm, we are committed to delivering flowers with ultimate freshness, exactly when you need them. Flowers are harvested within hours of being packaged and are shipped FedEx Priority Overnight, or FedEx 1-Day Ground for specific zip codes to arrive on your selected delivery date. If you're eligible for FedEx 1-Day Ground, you'll see the Ground and Home Delivery service appear at checkout. You can also see if you're eligible for 1-Day Ground shipping using the shipping calculator on the cart page.
To prepare for shipping, each bunch is dressed with an enclosed water source and gently rolled in paper for extra protection. Flower deliveries do not require a signature, and should not be left outside, or unprocessed for extended periods of time. Please be sure to have someone available to receive the flowers or a climate controlled area where your delivery can be left. Once flowers are received, they should be removed from the box, placed in water, and kept in a cool place until it's time to design. Fresh flowers are not available for international shipment. The only wedding flowers available for shipment are bulk flowers. All other wedding flowers are available for on-farm pickup ONLY.
DRIED FLOWER SHIPPING
Dried flowers are shipped within two business days via FedEx Ground. Dried flowers are not shipped on Saturday or Sunday. Dried flowers are not available for international shipment.
FLOWER FROG SHIPPING
The flower frogs are shipped within 3-5 business days of when you place your order. We will notify you immediately if for any reason your product has gone out of stock or is still in production and might be delayed. Flower frogs are shipped via FedEx for both domestic international shipments.
MERCH SHIPPING
Our merch is made-to-order. Due to you-know-what (we're tired of saying it), production times are longer than normal and are averaging 4-5 days, but could be as long as 15 days. We could switch vendors, but then we wouldn't be supporting US print shops and that's not really our style. This lead time is temporary and our printers are working hard to shorten them. After production, items will take 5-7 days to arrive to you within the US. International transit times vary and can be estimated at checkout.